I have sure neglected this blog for quite some time now, but that's to be expected with a scatter-brain like me. Life happens. I have to keep my top ten priorities straight: (1) God, (2) family, (3) school work, (4) reading books, (5) wine, (6) watching Outlander on Starz, (7) blogging, (8) ... okay, I'm not going to make it to ten, but you get my point. I've been busy, but I've still been reading!
Let's get caught up a bit, shall we?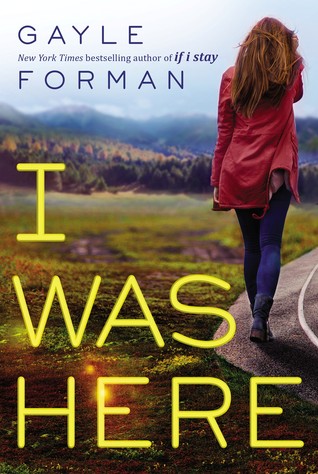 I just finished reading "I Was Here," by Gayle Forman. This is the first book of hers that I've read and I really liked it. It is the story of a girl dealing with the aftershocks of her best friend's suicide. It is simply written, intended for a young adult audience, but also beautifully done. As someone who has had personal experience with a suicidal loved one, I thought
Gayle did a great job of sorting through the main character's emotions.
I gave it four out of five stars, only because I reserve five star ratings for books that deserve ten stars. ;)
Do read this book if it sounds interesting to you! I have already added more of Gayle Forman's books to my "to-read" shelf and am looking forward to getting my hands on them.